Before you Travel
Helpful Travel Tools & Resources
Ready to start preparing for your upcoming vacation? Travel Selection knows how important it is to have everything in place prior to starting your vacation. Careful planning, even for seasoned travelers, before you leave can eliminate a lot of headaches and problems that can impact your entire vacation experience.
Some destinations require a different strategy for staying safe and for responding to small inconveniences and serious emergencies. Planning before your travel also gives you more time to enjoy your vacation experience.
These are just some things to consider knowing before your travel:
Knowing if there are travel advisories in the countries you are visiting.
Knowing what the weather will be like.
What currency is accepted in the countries we will visit?
What are the countries calling codes to leave with your friends and loved ones so they can reach you in the event of an emergency back home?
What are the duty free limitations when returning to your country of origin and what you can and cannot bring back into the country?

When traveling abroad, some things can seem to be very basic. In reality, they can also be obstacles if not planned for. In need of a passport or just need to renew your passport? Find everything you need to insure that you are not waiting till the last minute to receive these important travel documents. For honeymoon couples, it is very important to know what documentation is required even though you might already have a valid passport.
This is why we have put together these important Travel Resource links to assist you in covering all the bases and to thoroughly enjoy your vacation experience! Use the topics below to access important travel tools and resources. You will find helpful links for both "Before you go" and "While you're abroad". Taking the time in advance will insure for a safe trip and to remaining safe while you're away.
You can also visit this page while you are traveling if something does arise that you need the answers to! We update our links often to insure that you have access to the most important information when preparing for your travels and while traveling.
---
U.S Passport & Other Travel Information
http://travel.state.gov/passport/forms/forms_847.html
Applying for a U.S. Passport
U.S. citizens can visit the State Department's travel website at travel.state.gov, or call the National Passport Information Center at 1-877-487-2778; TDD/TTY: 1-888-874-7793 for information about applying for a passport.
New TSA Secure Flight Passenger Data Program FAQ
1Q. What is Secure Flight and what does it do?
A. Secure Flight is a behind the scenes program that streamlines the watch list matching process. It will improve the travel experience for all passengers, including those who have been misidentified in the past.
2Q. What information will be collected by Secure Flight?
A. When fully implemented, Secure Flight will require all airlines to provide a passenger's name as it appears on the government issued ID they plan to travel with, date of birth, gender, and redress number (if available).
3Q. If the name printed on my boarding pass is different than what appears on my government ID, will I still be able to fly?
A. Secure Flight is a behind-the-scenes process that TSA and airlines collaborate on to compare the information you provide against government watch lists. The additional data elements that you may be asked to provide, such as date of birth and gender, serve to better differentiate you from individuals on the government watch list.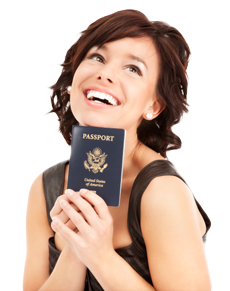 Due to difference in boarding pass systems, boarding passes may not always display the exact name you provided when booking your travel. The name you provide when booking your travel is used to perform the watch list matching before a boarding pass is ever issued, so small differences should not impact your travel. You should ensure that the name provided when booking your travel matches the government ID that you will use when traveling. Small differences between the passenger's ID the passenger's reservation information, and the boarding pass (such as the use of a middle initial instead of a full middle name or no middle name/initial at all, hyphens or apostrophes) should not cause a problem for the passenger.
Check Status: To check the status of your passport application
online, please click here.
If you would like general passport information, check the status of your passport application, or need to speak with a customer service representative, you may call us at the phone numbers provided below.
If traveling to Canada, Mexico, the Caribbean or Central or South America, you are now required to carry a passport?
Below are some more helpful resources for passport information and international travel.